The Alabama Community College Conference recently named Wallace Community College – Dothan Gov's Baseball shortstop John Rodriguez player of the week.
Rodriguez, a sophomore, said receiving the award was an honor.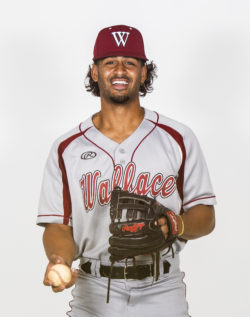 "When I found out I had received this honor, I felt blessed," he said. "My teammates and coaches have been very helpful, and I have benefited a lot from being part of this team."
Rodriguez is from Miami, Florida, and attended Stoneman Douglas High School. He said being a member of the Gov's has been exciting, and he's enjoyed his time at the College so far.
"My favorite part of playing for Wallace is knowing that the people I have around me are really genuine and great people, not only the baseball team, but the whole entire Wallace community," Rodriguez said. "I've created amazing friendships through baseball in my time here. I've met a lot of new people, and I hope to always come back and visit when I no longer attend Wallace."
Rodriguez said baseball means so much to him, and he's glad that it brought him to Wallace.
"Baseball means fun to me. I just go out there every day and enjoy my teammates, coaches, and most of all the game," he said. "Baseball has brought me many different places and I thank God he brought me here to Wallace."
The Govs are 5-3 on the season. For more information about the Govs, visit https://www.wallace.edu/athletics/baseball/.