We currently offer the Fiber Optics training course in a hybrid format, so students can learn theory at their own pace, on their own schedule, using a self-paced, online, and interactive learning approach. After each lesson, participants must take a quiz and score 80% or greater. Upon completing the online portion, students may then complete the lab portion of the course in person. This Fiber Optic training course covers best practices and fundamental principles behind basic data and voice transmission via fiber optic cable, as well as installation and termination techniques. Students will learn how to identify fiber types, recognize various connectors used in fiber installation, and install, terminate, splice, and test multimode or single-mode fiber optic networks according to existing standards. This course combines online theory and in-person, hands-on lab activities to prepare students for employment or advancement in the fiber optics industry. Other skills covered include customer service, communication, leadership, attention to detail, and time management. After completing the course, participants get 16 hours of hands-on equipment training. Upon successfully completing both online and hands-on portions of the course, a participant will receive a Wallace Community College Certificate of Completion and an ACCS credential.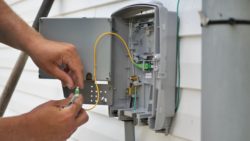 Location: Gary Hall, Dothan Campus
Location:  Bevill Center, Sparks Campus
Potential students click here to submit your interest form for the Fiber Optics Program.
Employers click here to submit your interest form for scheduling training for your existing employees.