Keri Prince has always enjoyed helping people, and in school, her best subject was science. She decided to combine the two and study nursing.
"I have always loved caring for people, and if they were hurt, I wanted to help them get better," Prince said.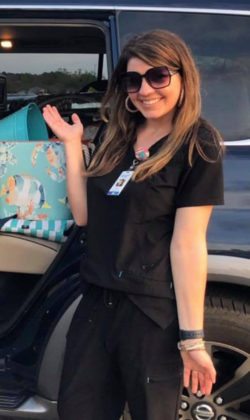 Prince graduated from Cottonwood High School in 2009, and received her nursing degree from Wallace Community College – Dothan in 2013. With the help of the bridge program at Wallace, she completed her BSN at the University of Alabama in 2017 where she was in the Honor Society of Nursing and graduated Summa Cum Laude. Price has been a case manager at Encompass Home Health since 2016.
"Doing home health nursing, we go to patients houses … we're just the front line when they get home from the hospital and help them transition back home and figure out how to manage their disease process," she said. "What I love the most is that I get to see the improvement [in the patients]. It's just so rewarding."
Prince said Wallace prepared her for continuing her education, and for her career. Though she said the classes were hard, she believes they fully equipped her for her state board exams.
"The nursing instructors at Wallace were really hard on us, and I think that helped me," Prince said. "The tests that we took in nursing school definitely prepared me for the state exam. I felt like the state board was easy compared to the tests I took in nursing school."
Prince has a goal of going back to school to get her doctorate and become a nurse practitioner. She would like to have her own practice, or work alongside a partner in a practice.
"I think being in the home health field, I've seen a big array of everything, so family medicine is just something that interests me. I love the idea of taking somebody from when they're a kid until they're an adult and being able to treat the whole family," Prince said. "Ever since I started nursing school, I've wanted to do that."
Getting a doctorate degree can be expensive, and Prince said accruing student load debt is not ideal. That is one reason she started her own candle company, Lake Lane Candles. "It's a lot of money. I have a family and bills, and I don't want to add student loans on top of that," she said. "Which is why I started this candle business on the side to try and make money to possibly pay for my practitioner's degree so I'm not taking out student loans."
The candles Prince makes are organic soy wax, made with organic fragrances that do not have cancer causing agents, as well as using wood burning wicks. With family members that have asthma, she said burning most store bought candles were not an option anymore. "I started researching, and being a nurse, it kind of tied in with making healthy candles because the candles I was burning are not healthy," she said. "I love candles and wax melts, and I didn't want to quit burning them so I made healthy candles."
Wallace offers students the opportunity to get their start at half the cost of a university, and even begin their profession while finishing their education at another institution like Price has done.
"Because of Wallace, I was able to pursue a career in the field of my dreams," Prince said.