Ellen Sheppard was reading a book and came across a story about someone who learned to walk again through physical therapy. It was then that she knew becoming a physical therapist assistant was what she was meant to do.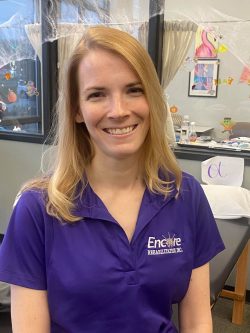 "I read about this guy who couldn't walk, learn how to walk again. The idea that I could help people relearn how to walk, or how to function with deficits that they had just really drew me in," Sheppard said. "I did some volunteer work at a nursing home in Ozark and worked with the patients and I got really drawn in to working with people and helping people."
Sheppard graduated high school in 2006, and then from Wallace Community College – Dothan in 2009 with her associate degree.
After Wallace, she began working at Flowers Hospital, went on to work in a clinic in Auburn, Alabama, then spent two years as a travel PTA, and now works at Encore Rehabilitation – Dothan.
"It's a great field," she said. "You can work with so many different settings and see so many different types of patients. I just really enjoy it."
Sheppard said getting to travel before coming back home and working at Encore was exciting, and something she never knew she would end up doing. She knew about travel nursing, but had never looked into traveling as a PTA until someone asked her about it.
"I felt like God was telling me to get out of my comfort zone," she said. "I started looking in to it and thought that would be something totally different." She traveled to Connecticut, Texas, and around Alabama.
"Because of Wallace, I had adventures across the state and country I never imagined," Sheppard said.
Now back in Dothan, Sheppard said she enjoys getting to know her patients and helping them recover from a variety of conditions. "I enjoy working with a lot of the athletes and getting them back to playing sports, and challenging them and pushing them to achieve their full potential," Sheppard said. "I enjoy getting to know their story and where they come from."
Sheppard said her time at Wallace was very informative, and prepared her well for the future.
"I enjoyed the program. You become a family," Sheppard said of her classmates. "Some of my favorite memories were when we would have tornado drills, and Dr. [Shannon] Turner would still lecture. We didn't get a break. We'd still have lecture in the hallways."
Sheppard said Wallace was a great place to not only start out for some, but to complete a degree and get a great job, all while staying home and saving money. "Wallace has so many things that you can get an associate in and get a good job and not accrue the debt of a four year degree," Sheppard said. "It can be a career."