The Wallace Community College – Dothan welding department is giving students the opportunity to have a real-life work environment with a new hands-on simulator.
Joey Jackson, Welding Technology instructor, said having the simulator is a way for students to get out of the booths and see some of the obstacles they will face once they begin working.
"This benefits the students a lot, especially if they're going to go do this type of work," Jackson said. "This simulates exactly what I did for more than 30 years out there in the workforce. You have to wear a hardhat and safety belt, and work in some dangerous situations. We teach the students to be safe at all times."
The idea for the structure came from seeing other institutions with similar projects, and Jackson said they decided build their own. Though they plan to expand on it, Jackson said the students are now working in it and getting a feel for real-life conditions.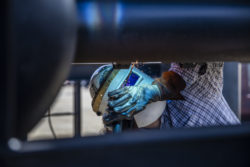 "The students love it. This is our first time getting started with it, and they're tickled to death to get out here and work on it," Jackson said. "We want to expand on it when we get some time to work on it."
From the ground up, all of the materials are recycled from around campus.
"Everything you see here was donated or made out of metal we had laying around," he said. "It didn't cost us anything to make this."
Welding in a booth has its own challenges, but Jackson said the new simulator has obstacles and situations that would normally only be found on a job site.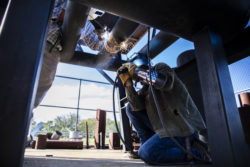 "We have different set ups and positions for the students. We make it harder out here," Jackson said. "In the welding booths, it's easy. We can get around a pipe easy, but out here we make it more difficult. There's other things in their way to make it harder to weld."
Jackson said the students have enjoyed using it thus far, and they are looking forward to the expansions and opportunities this will give them.