Students and alumni of colleges within the Alabama Community College System add $6.6 billion to Alabama's economy, supporting one out of every 27 jobs in the state, according to a recent economic impact report released Monday.
The independent, 102-page report by Lightcast estimates the Alabama Community College System directly impacts 98,923 jobs in the state, representing about 2.7% of Alabama's gross state product. Additionally, taxpayers see a net benefit of $1.1 billion in added tax revenue from students' higher lifetime earnings and increased output to businesses.
The total economic impact of Wallace Community College-Dothan (WCCD) on its Wiregrass service area is just under $164 million annually and supports almost 3,000 jobs. One out of every 49 jobs in the WCCD service area is supported by the activities of WCCD and its students.
"We are so pleased to see the Wallace Community College-Dothan results from the Lightcast economic impact analysis," said Dr. Linda C. Young, WCCD President. "We have always known that Wallace makes a deep, lasting impact on our students and our community, but to see the measurable economic outcomes of our mission is incredibly inspiring. We are grateful for the opportunity to make an economic impact of this size on our community, and it only solidifies the fact that Alabama community colleges make a substantial positive effect on students' lives, on their earning potential, and on the communities in which they live and work. These impressive results only reinforce Wallace's commitment to continue making those life-changing impacts each day."
Lightcast found that WCCD alumni add $128.5 million in added income to the area, an economic boost similar to hosting the World Series twenty times. The annual impact of WCCD's operation spending is $32.6 million, and the student spending impact on the area adds $2.8 million to the area annually.
In terms of investment, for every $1 spent at WCCD, students gain $7.20 in lifetime earnings. The average associate degree Wallace graduate will see an increase of$8,500 in earnings each year compared to someone with a high school diploma working in Alabama. Taxpayers see a return of $2.70 in added tax revenue and public sector savings for every dollar spent at WCCD, and the Wiregrass overall gains $9.10 in added income and social savings.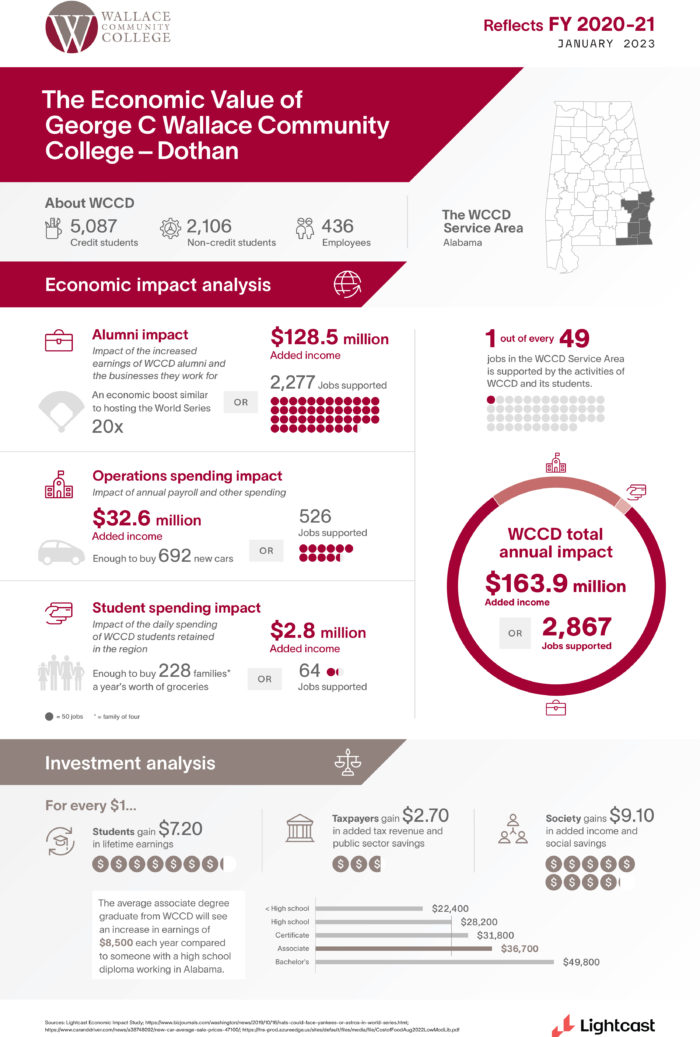 Among the report's additional highlights for the entire state:
The impact of the Alabama Community College System, which celebrates 60 years as a system this year and represents 24 community and technical colleges across Alabama, supported 98,923 jobs in FY2021. For perspective, the activities of the colleges and their students support one out of every 27 jobs in Alabama.
Taxpayers, who provided the Alabama Community College System with $869.8 million of funding in FY2020-21, will receive an added tax revenue benefit of $1.1 billion. Additionally, reduced demand for government-funded services in Alabama will add another $82.2 million in benefits to taxpayers.
The ACCS generates $7.40 for every dollar invested in ACCS, for as long as the colleges' FY2020-21 students remain active in the state workforce.
The average Alabama community college graduate earns $7,900 more each year than a resident who does not obtain more than a high school diploma.
The average annual return for Alabama community college students is 22.1%.
The colleges' operations spending was 535.8 million in added income to the state economy.
The colleges' construction spending was $13.3 million in added income for Alabama.
The jobs retained or created and additional investments by businesses supported by the Alabama Technology Network, an entity of the Alabama Community College System, created $206.5 million in added income.
As a result of the $1.8 billion invested by Alabama to support the ACCS, the economy will grow by $12.8 billion over the course of students' working lives.
Lightcast analyzed data from Fiscal Year 2021. The report used data that included academic and financial reports from ACCS colleges, as well industry and employment data from the Bureau of Labor Statistics and Census Bureau.
The full report can be found at www.accs.edu/impact.