Dothan, Ala. – Lauren Anderson has a family history of attending Wallace Community College – Dothan. From her parents, to her brother, they have all stepped foot on campus as a student. Without hesitation, Anderson knew she was going to attend Wallace to get started in her secondary education.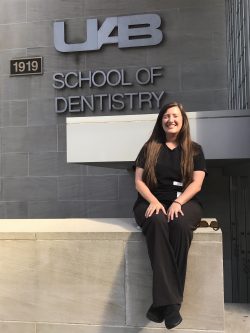 "My whole immediate family had attended Wallace," Anderson said. "That's why I wanted to go to Wallace. I was thinking I could get my associates here."
Anderson had a goal in mind when she first started classes – to eventually attend dental school. She said her life-long dream of wanting to become a dentist came from getting her own braces when she was in seventh grade, and noticing how much better her teeth were after having them. She decided she wanted to be able to do that for other people too.
"Being in that environment and around my orthodontist and my general dentist, and experiencing their staff, I thought, I'm interested in this," she said.
While at Wallace, Anderson was in the Wallace Chorus, Phi Theta Kappa, and the American Chemical Society. Anderson said without Wallace, she may not have had the same opportunities she did to make her dreams a reality.
"Wallace gave me the once-in-a-lifetime opportunity to further my education by selecting me for the Community College Presidential Scholarship to the University of Alabama," Anderson said. "This scholarship allowed me to pursue my education even further to obtain my Bachelor of Science degree in Biology as well as a minor in Music from the University of Alabama in August of 2017."
Anderson is a 2013 Rehobeth High School graduate, a 2015 Wallace Community College graduate, and a 2017 University of Alabama graduate.
Having her goal in mind, Anderson applied for dental school at the University of Alabama at Birmingham.
"On my first application, I did not get accepted," Anderson said. "Upon hearing of my rejection, it did not leave me feeling defeated. I felt even more motivated to try again the next cycle." She kept her mind set on the prize, and worked hard to further her education and gain knowledge as she reapplied.
"After much reflection and prayer, I applied to dental school for the second time in June 2019," she said.  "It's definitely not easy. I've had to apply twice and I didn't get in the first time. I reapplied, and I was like, I'm going to reapply until y'all accept me. I'm just going to keep coming back."
Anderson was accepted in December 2019 and is now in her first semester at UAB, where she said though things are a little different right now with COVID-19 protocols, she is loving it, and she's even using her knowledge from Wallace in her current classes.
"So far so good. I'm enjoying it," she said. "Stuff that I was taught at Wallace, is coming back now even in dental school with how I remembered it when I was studying for a test." Anderson hopes to graduate in 2024 and move back to the Wiregrass to work under an experienced dentist. She hopes to one day open her own practice close to Rehobeth.
Though she has attended several colleges along her path, Anderson said Wallace will always hold a special place in her heart. "Because of Wallace I got to pursue my dream," Anderson said. "This is my dream right now of being a dentist."