Moriah Henry grew up loving to sing and perform. She can recall photos of herself from 2-years-old and up, singing away for crowds.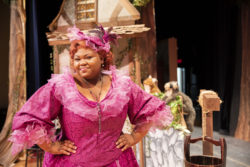 "My whole family grew up in church, and my grandma would always take pictures of me singing in front of a whole bunch of people or playing piano," Henry said. "When I started getting around 7 or 8, I actually sang in the choir. I was like, oh my gosh, this is so cool. I love the harmony."
Henry went on to join choir in school, working to be section leader in her class, and continuing her love of music.
"I would just love the feeling of having a whole bunch of voices become one," she said. "I just get happy when I hear that."
Little did she know, that passion would lead her to Wallace Community College-Dothan where she will soon play the role of the Madame in the Cinderella production.
"I look forward to playing her because I am the total opposite from her," Henry said. "It's been wonderful."
Henry said she loves her instructors and classmates, and is thankful that she chose Wallace.
"This has been a major part of my life and I think it will definitely take me to higher places. I will always thank Wallace Community College for that," Henry said. "The staff are amazing, the people are amazing, and it has really shaped me and formed me into who I really am and who I am going to be."
Henry always planned to attend a four-year university, but when she was offered the opportunity to attend Wallace, her plans changed. Choir instructor Ashley Gresko spoke to Henry about Wallace and the opportunities she would have attending the College.
"Before her, I had never heard about Wallace. I didn't see myself going to a community college," Henry said. "But now, I recommend anyone to go to a community college. You're getting the same classes for less money, and you meet great people that you are around all the time and just build a lot of different types of relationships."
Henry said she is thankful that she made the decision to attend Wallace, and participate in the choir and theatre departments, and she hopes to use her talents to one day even teach at the College.
"Because of Wallace, I have discovered the hidden talents in myself and others around me. I am able to pursue my passion in music and theatre, while focusing on my career path. The support from Wallace's staff and students is outstanding, and I couldn't have wished for better people to be around. Choosing Wallace was one of the best decisions I have made so far."