Courtney Rogers always had in interest in criminal justice, but it was not until she started the program at Wallace Community College – Dothan that she realized she would one day turn that interest in to a career.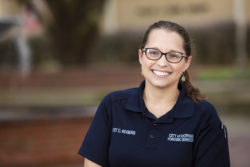 Rogers graduated from Houston County High School in 2008 before attending Wallace. She earned her associate in applied science with a focus in criminal justice from Wallace in 2012.
"Criminal justice has always interested me. My step-father was a police office in Enterprise, so it's always been something that [fascinated me]," Rogers said. "I took an interest in it and switched over to criminal justice."
It was then that Rogers fell in love with school.
"I loved coming to these classes. I enjoyed coming to school for the first time ever. Instructor Jason Owen was really good," she said. "The classes were amazing and very hands on."
Rogers began her first job in the field with the Ozark Police Department in 2016, and later began working with the Dothan Police Department as a crime scene technician, a position she currently holds.As a technician, Rogers responds to a crime scene call and processes the information. Once her team completes the work at the scene, they go back to their lab and process everything again.
"It's definitely interesting. It's an adrenalin rush. When you're on your way to the scene, you're thinking of all the things that could be there," she said. "I enjoy 100 percent what I do. My job is detailed. You have to be extremely accurate with what you do."
Rogers said she loves her job, and enjoys helping solve crimes and working with the investigators.
"I am a very small piece of the puzzle," she said. "I process the scenes and help them out, but our investigators do a whole lot. We are the ones that can alleviate them from having to process a scene so they can go and interview suspects and witnesses."
Rogers said getting the call that a crime has been solved, especially a murder, gives her the satisfaction of knowing what she does is important.
"It's an amazing feeling (to crack a case). When you have a murder, it's all hands on deck and it's very team oriented. When the investigator calls me and tells me that they arrested someone, it's amazing. It's an amazing feeling to know that I was part of solving a murder in Dothan, Alabama."
Rogers said getting her start at Wallace was just what she needed, and she hopes to one day return the favor and teach others how to be successful in this career.
"Having Wallace here locally was probably the greatest thing ever," Rogers said. "The ultimate goal in this field would be to teach crime scene forensics. I really enjoy training our patrol on crime scene, or going to schools and teaching kids about it."