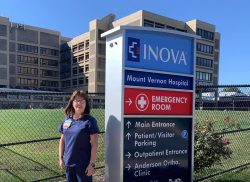 When Ellen Strack decided at 52-years-old that she wanted to return to school and become a Registered Nurse, some people might have thought that was a farfetched task, but not her.
Strack graduated from Dale County High School in 1983, and immediately enrolled in Wallace Community College. But she didn't finish – then. She moved away and life took over. She would return to Wallace in 1998.
"When I came back, I wanted to see how many credits I needed to get an associate degree, and I needed two hours of physical education," Strack said. "I wanted to take bowling, but it was full, so I couldn't bowl. I took golf, and got my associate degree."
Strack earned her associate of science in 1998.
She then worked as a phlebotomist, medical assistant, and a nurse aid, after starting out working in a veterinarian's office. Strack remarried, and her husband, Rick, is in the military and was up for deployment in 2017. He said he would help send her to nursing school if she wanted to go while he was deployed. She took him up on the offer. "I've been in the medical field all my life, so it just seemed kind of natural to do nursing," she said.
Strack came down from Illinois and visited Wallace to speak with an advisor on a Friday, found out classes started Monday, and never left Alabama.
"I was a little bit older than everyone else. There were some challenges just because I haven't studied for a long time," Strack said. "The nursing classes, I didn't know what to expect, but every class that I had was so interesting. The instructors were all so knowledgeable. They have all worked as nurses and had a lot of experience that they can tell you about and knew their stuff."
Strack graduated from Wallace as a RN in December of 2019 and her husband returned from deployment in January. The two took some time to visit family and friends at the beginning of the year, and now live in Fort Belboir, Virginia. After some time looking for a nursing position during the pandemic, Strack was offered a position at Inova Mount Vernon Hospital in the Intermediate Care Unit where she has worked since July.
"It has been a big experience," Strack said. "I was definitely prepared education wise. I have the things that I needed to be successful. It hasn't been easy being a new nurse, there's still a lot to learn, but I [was prepared]." Strack said Wallace fully prepared her for her current job, where she works with COVID-19 patients day to day.
"Most of the nurses here have BSN's, and I can compete with them in the knowledge department because [of Wallace]," she said. "I feel prepared. I have the knowledge that I need to be a successful nurse. I want to do my best and give my best, and I feel like Wallace prepared me to do my best in this profession."
Strack said though she didn't get her start in nursing until she was 55, it's a career that she loves.
"It's an intense profession. A lot of hard work goes in to it, but when you're done, you're awfully proud to be able to take care of people and know that you're giving them the best care that they could receive," Strack said. "Because of Wallace I have the opportunity to provide my patients with exceptional care."
Strack said though her start in nursing may not have been conventional, she is glad she is doing it now.
"I was 52 when I started nursing school and 54 when I graduated. When instructors would ask, 'Where do you see yourself in 5 years?' I would say, 'halfway through my career.' Although, I may work past 65."