Dothan, Ala. – Dr. Ryan Spry, Director of Student and Campus Services at Wallace Community College-Dothan, has recently been named to the Student-Athlete Leadership Council for the Alabama Community College Conference (ACCC).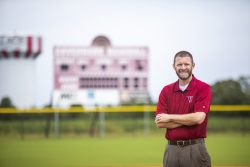 "It­ is with great excitement that I accept this appointment to the ACCC's Board that will oversee its inaugural Student-Athlete Leadership Council and Leadership Development Program," Spry said. "These Conference initiatives will continue a focus on the student-athletes' holistic development, something we take great pride in at Wallace Community College, as we convey soft skills that are necessary for success beyond their time at our member institutions."
Two student-athletes from each ACCC member institution will convene for leadership workshops, with sessions addressing a broad array of topics. Some topics will include personal leadership development, sportsmanship on and off the field, social media etiquette, financial responsibility, leader/follower relations, current national issues, and networking skills.
"I also want to commend Commissioner [Dean] Myrick for utilizing the far-reaching influence of the Conference to give student-athletes a platform to speak to current societal issues," Spry said. "[I] look forward to productive conversations that will enhance the way our Conference serves its participants."
ACCC Commissioner Dean Myrick said he is excited to work with the board and praised them for their skills and talents.
"I look forward to working with our Conference leaders toward the empowerment and development of our student-athletes," Myrick said. "We are very fortunate to have such skilled and goal oriented individuals who have graciously volunteered to work and lead our student-athletes. Our mission is to enhance the total student-athlete experience by providing opportunities for engagement, critical conversation, leadership development, and community-oriented service projects."
Other members include: Chair – Carlton Rice, Athletic Director – Lawson State Community College; Presidential Representative – Dr. Reginald Sykes – President – Bishop State Community College; Vice-Chair – Cara Crosslin – Athletic Director – Shelton State Community College; Vice-Chair – Ben Hicks – Head Men's Basketball Coach – Chattahoochee Valley Community College; Dr. Ritchie Dulaney – Head Volleyball and Men's and Women's Tennis Coach, Chair – Health and Physical Education – Coastal Alabama Community College, Bay Minette; Dean Myrick – ACCC Commissioner; Dr. Michelle Ivey – Athletic Director, Region 22 Women's Director – Marion Military Institute; and Kathleen Thompson – Athletic Director, Math Instructor, Region 22 Assistant Director – Central Alabama Community College.