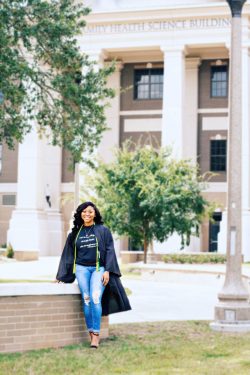 Dothan, Ala. – Jameka Rambeau, a recent Wallace Community College – Dothan graduate, said attending the College was meant to be for her.
Rambeau is a two-time Wallace graduate, earning an associate in applied science in 2017, and returning to school to receive an associate to become a physical therapist assistant.
"I don't think I was ready for a university, so it was a good experience with the College being small. Not too small, but not too big," Rambeau said. "Coming straight out of high school and going to Wallace, I was a little afraid, but the instructors made the experience much, much better."
Rambeau is a Georgia native, and drove over an hour every day for her classes. Though the ride would get long, she said it was well worth it.
"People would always ask me why I was driving all the way to Wallace. I just felt let to attend Wallace … and I'm really glad I did because I've made lifelong friends, I had some really great opportunities," Rambeau said. "It wasn't always easy; the ride got long."
After receiving her degree in 2017, her plan was to go straight into the PTA program and graduate in 2019. After being accepted in the program and taking some classes, Rambeau learned that her grandmother, the late Christine Rambeau, was diagnosed with colon cancer.
That's when Rambeau decided to stay home and care for her grandmother.
"I started in 2017, and I was supposed to finish in 2019, but my grandma got sick and I had to take a year off of school to help her during the time," she said. "The whole year that I took off with her, I wasn't able to really go back to school. I was her caretaker. I learned firsthand, and that experience really taught me how to serve and how to care for the needs of others. It was very emotional, it wasn't easy at all. But I really enjoyed it because she was my loved one."
Through caring for her grandmother, Rambeau said she truly learned how to care for others, and she knew she wanted to complete her PTA degree and be in the field helping others.
"Right before she passed, I got reaccepted into the PTA program and I was able to finish," Rambeau said. "She was the one that encouraged me to go back to school to finish up my PTA degree. I know she would be [proud]."
In 2019, Rambeau was reaccepted into the PTA program at Wallace, and despite the COVID-19 pandemic, she finished. She said even though it took her time and she didn't finish when she had planned to, she encourages everyone to continue pushing toward their dreams and make them a reality.
"I didn't graduate when I really wanted to … but I just want to encourage people not to give up," she said. "Five years and two degrees later, it took time. Just don't be afraid because it didn't happen on the timeline that you think it should, that doesn't mean it's not possible."
Though she was going to graduate in May, COVID-19 pushed that back to August of this year.
"It was horrifying because we didn't know if we were going to be able to graduate. It was crazy," she said. "Having to go through all of that right before graduation, it was nerve wracking. We worked really hard and our teachers worked really hard and we kept praying. It was hard and it was very emotional."
Rambeau passed her boards and with a degree in hand, is now ready to work.
"I just want to gain as much clinical experience as I can being a fresh graduate and just get started off on this journey of becoming a PTA," Rambeau said. "I really miss Wallace, but I'm thankful that my experience there was great. I'm really grateful."