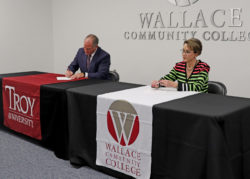 This articulation agreement will provide a pathway for Wallace students and faculty who have an Associate in Applied Science to earn a Bachelor's degree in Occupational Education from Troy University.
Wallace Community College-Dothan and Troy University are pleased to announce a memorandum of understanding between the two institutions, signed by Wallace Community College-Dothan President Dr. Linda Young and Troy University Director of Operations for the College of Education Dr. Kirk Davis on Wednesday, September 29th on the Wallace Campus in Dothan.
As a result of this articulation agreement, Troy University assures the acceptance of Wallace Community College-Dothan Associate Degree in Applied Science graduates into its baccalaureate program in Occupational Education, dependent on conditions listed in the memorandum. The Occupational Education degree combines theory with experience to prepare students as workforce development professionals in a variety of settings and occupations.
"We are so appreciative of our strong relationship with Troy University, and our combined focus on removing barriers, providing opportunities, and helping our students reach their educational goals," says Leslie Reeder, WCCD Dean of Instructional Affairs.
"The purpose of the Bachelor of Science in Occupational Education is to provide a pathway for individuals with specialized skills, such as aviation maintenance, to earn a bachelor's degree while receiving credit for their certified vocational training," said Dr. Davis. "Troy University and Wallace Community College representatives were excited to sign this agreement regarding this degree program and this is representative of a longstanding relationship between our two institutions and our efforts to serve students throughout the Wiregrass and beyond."
This is the third articulation agreement between the two institutions. In July 2018, Wallace and Troy signed an agreement that assured the acceptance of Wallace Associate in Applied Science – Child Development graduates into the Troy University–Dothan Campus baccalaureate program in Early Childhood Education, dependent on conditions listed in the memorandum.
Earlier in 2021, a second agreement that also included the Alabama Office of Apprenticeship and the Alabama Department of Early Childhood Education created an apprenticeship program at the Coleman Center for our Child Development students.  In addition, this agreement provides a pathway for our Associate in Arts – Child Development graduates to complete the baccalaureate program in Early Childhood Education at Troy University.
For more information about the Occupational Education memorandum of understanding, please contact Leslie Reeder, Dean of Instructional Affairs, at lreeder@wallace.edu or 334-556-2486.