Victoria Helms knew she wanted to be a labor and delivery nurse after having her first child. That experience led her to Wallace Community College – Dothan where she earned her associate degree. Helms graduated from Abbeville Christian Academy in 2011, and from Wallace in December 2014. She began working at Southeast Health in Labor and Delivery in January 2015.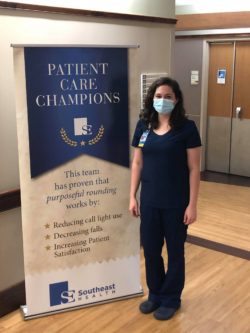 "After having my first child, I knew that I wanted to help other women and educate them and empower them through being a labor and delivery nurse," Helms said. "My favorite thing about being a labor and delivery nurse is empowering women to make informed choices about what they want for themselves and their families."
As a labor and delivery nurse, Helms carries many different responsibilities throughout each day.
"From the first moment a patient comes in for any concern about their pregnancy or delivery, I'm the first person they see," she said. "I educate constantly about what we'll be doing, why, and how."
Helms performs skills such as starting IV's, drawing blood, assisting with epidurals, setting up equipment for deliveries, and assisting the doctors directly with deliveries – among others.
"I also educate my patients after deliveries how to care for themselves, how to care for their baby, and I make sure that they are in the best place possible to take that baby home," Helms said. "I make sure they have all the resources they need to take home a healthy baby."
Being a labor and delivery nurse comes with its own set of challenges. Though there are many happy and exciting moments in nursing, there can be sad and tragic moments too.
"I think I'm able to get through the sad parts of my job by having a close relationship with the other nursing staff," Helms said. "We all lean on each other and support each other and are there emotionally for one another."
That family feel starts in the classroom. Helms said being at Wallace, she developed lifelong friendships with her classmates and her instructors.
"My time at Wallace was great," she said. "I made a lot of friends that I'm still friends with now. I made friends that I know I'll have for the rest of my life."
Having somewhere like Wallace locally was a blessing to Helms, who said Wallace has helped shape her as a nurse and given her the opportunity to work in a field that she loves.
"If I had not had Wallace as a choice, I don't think that I would have been able to go to college at all," Helms said. "I think what I learned at Wallace was the best preparation that I had. It is definitely a blessing to the community."
Helms would like to further her education to receive her BSN, and then her master's and become a midwife to be the provider for patients.