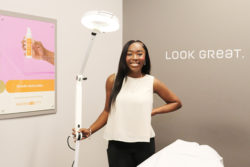 DOTHAN, AL—Wallace Community College-Dothan (WCCD) Esthetics graduate Erieon Lewis is the first WCCD student to be selected for Waxing the City and Alabama Nail Company's student loan forgiveness program. Upon completion of the Esthetics program in May, Lewis not only was selected for employment at Waxing the City but also received reimbursement for her tuition, supplies and textbooks. Waxing the City and Alabama Nail Company owner Melinda Sykes debuted her student loan forgiveness program to WCCD students in the fall of 2022.
Lewis, a Dothan native, was a Wallace dual enrollment student during high school before joining the Esthetics program. She became interested in esthetics because "it's a field where you get to meet so many different people," she says. "I like how you can help people feel more confident about themselves."  She's already enjoying her new career at Waxing the City. "I work with a great team that has made me feel so welcome," says Lewis. "They want me to be great, and they have given me everything I need to do that. This is the best place I've worked so far!"
"Erieon was an excellent student, and it was a pleasure to have her in class. She took an interest in the skills being taught and always did a great job," said Lori Godwin, WCCD Esthetics Technology Instructor.  "I know she will be successful because of her hard work and the strong work ethic that she displayed while in school."
"Erieon is a wonderful, bright employee," says Waxing the City manager Shelby Carnley. "We are so excited to have her on our team and Waxing the City is proud to help get where she wants to be in life."
The student loan forgiveness program is available for WCCD students in the Cosmetology or Esthetics programs. In addition to graduating free of debt, graduates selected for the loan forgiveness program are guaranteed employment at Waxing the City or Alabama Nail Company after graduation. To be considered for the program, students must complete an application and go through an interview process before being selected. Selected WCCD graduates would be employed full-time and receive full benefits, including a 401(k) and health insurance.
"I am so appreciative to Melinda Sykes and Waxing the City for supporting our program," said Godwin. "We have developed a great partnership with them over the years as they visit our students each semester to give demonstrations, help with interviewing techniques, serve on our advisory committee and hire our graduates."
For more information about WCCD's Esthetics program, please visit wallace.edu or contact Lori Godwin at lgodwin@wallace.edu or 334-556-2424.