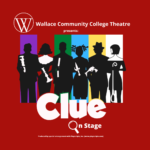 Tickets are now on sale for the Wallace Community College-Dothan fall theatrical production of Clue: On Stage. The production will run November 17, 18 & 19 at 7:00 PM in the Bencze Theater in Cherry Hall on the Wallace Campus in Dothan.
Ticket prices for Clue: On Stage are $5 for any student and $10 for general admission. Tickets can be purchased by clicking here. Tickets may also be purchased at the Bencze Theatre box office one hour before each production begins.
It's a dark and stormy night, and Wallace is inviting you to a very unusual dinner party. Each of the guests has an alias, the butler offers a variety of weapons, and the host is, well . . . dead. So whodunnit? Join the iconic oddballs known as Scarlet, Plum, White, Green, Peacock, and Mustard as they race to find the murderer in Boddy Manor before the body count stacks up. Based on the cult classic film and the popular board game, Clue is a madcap comedy that will keep you guessing until the final twist.
Solve the mystery by getting your tickets today!
For information about tickets or about Clue: On Stage, please contact Savannah Granberry at sgranberry@wallace.edu or 334-983-3521 ext. 2314. For ADA accommodations only, please call 334-556-2587.