Demetrick Williams wasn't sure what he wanted to do in life, but after taking a dual enrollment class in high school, he found that he enjoyed electrical technology. After graduating from Abbeville High School in 2012, he enrolled at Wallace Community College – Dothan and began working toward an associate degree.
"I really didn't know what I wanted to do," Williams said.  "I didn't plan on going in to electrical [technology], I just happened to stumble upon it."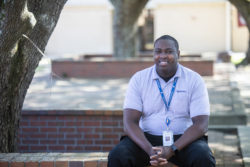 Williams graduated from Wallace in 2014 with a degree in electrical technology, and currently works as a flight simulator technician at Flight Safety.
"It can be challenging at times because of the technology, but I like that there's always something different that I'm dealing with," he said. "I just try to be the best I can be and be a leader for the other technicians."
Michael Hannon, electrical technology instructor at Wallace, said the College provides students with an opportunity to grow in the field, and work toward a degree in a growing industry.
"Electricity is an ever-growing industry with multiple and diverse opportunities. Choosing a career in the electrical industry provides students with a broad choice of career paths such as being part of a company's electrical technology department or becoming an electrical contracting entrepreneur," Hannon said. "This region has so many high-wage openings for highly skilled graduates in the field of electrical technology."
Williams said he enjoyed his time at Wallace, where he made new friends and really got to open up and come out of his shell.
"I enjoyed meeting new people at Wallace. I was really shy in high school, so meeting new people was fun," Williams said. "I enjoyed my instructor. He was very good at explaining things and pushed his students to complete their degree."
Williams said Wallace gave him the opportunity to stay home and save money, while earning his degree.
"I didn't have to worry about trying to find housing," he said. "I think a lot of people should start here before going off to universities."
Williams said it is great for the community to have somewhere like Wallace.
"I think Wallace is a very good asset to the community," he said. "I think a lot of kids don't know what they want to do when they get out of high school, and I think it's good to come to Wallace where it gives you a chance to learn what you want to do before you make your next big step."
For Spring Semester 2021, Wallace Community College-Dothan is offering a Buy One, Get One (BOGO) program for up to 9 credit hours for Career Technical courses, including electrical technology. Check out specific information on eligibility and requirements at  www.wallace.edu/financial-aid/career-technical-buy-one-get-one.
Williams is currently taking classes at Florida Institute of Technology where he will soon earn his bachelors in computer information systems. He hopes to continue working at Flight Safety and continue to advance there in his career.