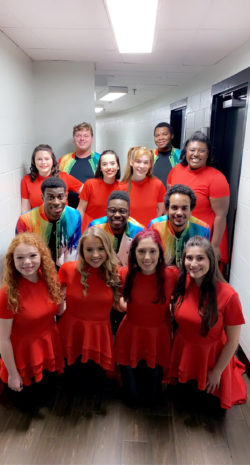 Always in touch with the current trends in music, Wallace Community College's choral program has taken several forms over the past 40 years. In our current form, we have several opportunities for a variety of performance styles. Under the direction of Cameron Johnson Weiler, we offer the Wallace Concert Choir, and The Wallace Sound (a show choir). In Spring 2012, the Wallace music department teamed up with the theatre department to present the college's first musical since 1984, Hairspray. This new tradition will continue in spring during alternating years giving our students the opportunity to participate in a large scale musical theatre production. Our music students will all be involved in the Spring 2022 production of The Wizard of Oz.
Courses
CHORUS I, II, III, IV (Open to all students) MUL 180-181; 280-281
JAZZ/SHOW CHOIR I, II, III, IV (By audition) MUL 184-185; 284-285
MUSIC WORKSHOP  MUL 170
Program Outcomes
In addition to the college's General Education Outcomes, students successfully completing a course in the Vocal/Choral Program will satisfy the following program outcomes:
Students completing a Vocal/Choral course at Wallace Community College will understand and demonstrate:
Competency in technique such as articulation and enunciation, breath support and tone quality.
Competency in musicianship. This includes but is not limited to execution and interpretation of musical scores, authentic stylistic practices and expression.
Competency in diction in a variety of languages including German and Latin.
Competency in collaborative performances with various ensembles. This will include the Wallace Instrumental Ensemble.
The ability to perform a variety of music literature appropriate to the level of college ensembles.
To submit an audition video and application now click HERE!
To Text the Choral Director click HERE!
For more information or to set up an audition, please contact cweiler@wallace.edu
https://app.arts-people.com/index.php?ticketing=wcc